Welcome to STEPS Foundation
Odisha's best wellness and rehab center in Bhubaneswar
STEPS-Support, Treatment, Education, Prevention and Sustainability
A 12 Step and learning, experienced, working & proven residential detoxification, counseling, wellness, and Rehabilitation Centre in Bhubaneswar, Odisha. This full form says it all. Going with the general consensus of alcoholism and addiction as a disease STEPS recognizes that alcohol and drug dependency or addiction is the result of a bio-socio-psycho disorder and hence no medication works totally and that there is no one approach for most people suffering from such disorders.
Empathizing with those suffering; that the journey of life often entails many falls and fails for the biologically and psychologically vulnerable, STEPS endeavors to provide a supportive environment to help them get back on track. An unconditional and non-judgemental acceptance combined with gentle yet firm guidance forms the backbone on which STEPS works. Promoted by qualified professionals with humane values the Foundation was conceptualized by a recovering addict who conducted immense research on the subject. Our Reliable and Effective Drug and Alcohol Addiction Recovery program is headed by a highly intellectual team and supported by Psychiatrists, Psychologists, Doctors, Social workers, Counsellors, and Caretakers all with years of experience in treating addiction.
Dr. Surjeet Sahoo
Visiting Consultant (MD Psychiatry)
Meet Dr. Surjeet Sahoo, our esteemed Visiting Consultant and an expert in the field of psychiatry. With years of experience and a deep understanding of addiction, Dr. Sahoo is dedicated to guiding individuals towards lasting recovery. His compassionate approach and expertise in mental health make him a valuable asset in our mission to help addicts reclaim their lives. Trust Dr. Sahoo to provide personalized care and comprehensive treatment strategies for a successful journey to sobriety.
Mr. Sidharth Mishra
Psychologist (PhD Research Scholar)
Introducing Mr. Sidharth Mishra, our exceptional Psychologist and a PhD Research Scholar. With his profound knowledge and expertise in addiction psychology, he is committed to empowering individuals on their path to recovery. Through compassionate counseling and evidence-based techniques, he helps individuals understand the underlying factors contributing to addiction and equips them with the tools needed for a successful and lasting recovery journey.

Mr. Sourav Mohanty
Yoga Therapist
Welcome, Mr. Sourav Mohanty, our talented Yoga Therapist and an Odissi dancer. Drawing on his profound knowledge of yoga and his artistic background, Mr. Mohanty offers a unique approach to addiction recovery. Through the healing power of yoga, he guides individuals towards physical, mental, and spiritual well-being. With a deep understanding of the mind-body connection, Mr. Mohanty's yoga therapy sessions provide a transformative experience, fostering inner strength, balance, and harmony.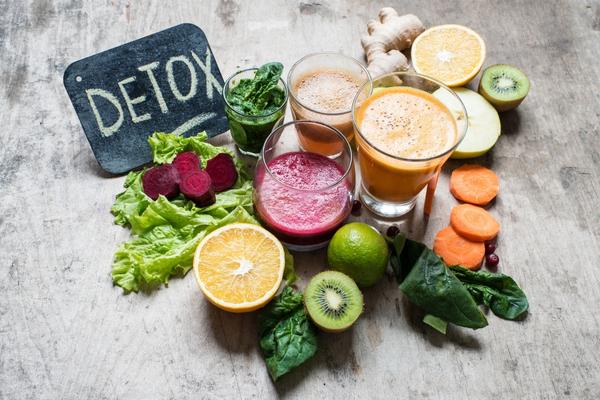 Getting rid of the impurities in the body can be challenging for the addict.
Our withdrawal management ensures proper detoxification from drugs and alcohol for the addict. It helps the addict detoxify the body completely.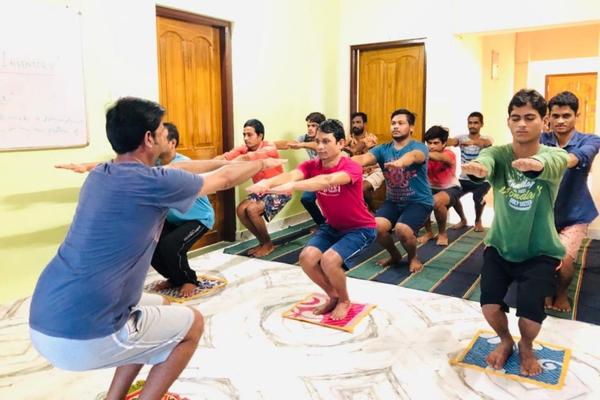 Yoga works as a medicine to heal addicts. It brings balance to life. It helps the inmates become addiction-free and brings harmony to life. Yoga brings equilibrium to both body and mind.
Pranayama helps the victim get rid of negativity. It helps the inmates heal spiritually, mentally, and physically. It results in complete transformation and well-being. It relaxes the mind and calms the soul.
Orientation classes are conducted by the therapists on a regular basis where all the inmates take part. They all are guided as a whole towards healing. Each and every aspect is taken care of to make the inmates become addiction-free and bring lifetime well-being.
We also conduct councelling classes where we counsel the inmates and track their progress in the healing process. Each and every aspect of their journey is looked after. We ensure, in counselling classes, that every inmate is going in right direction.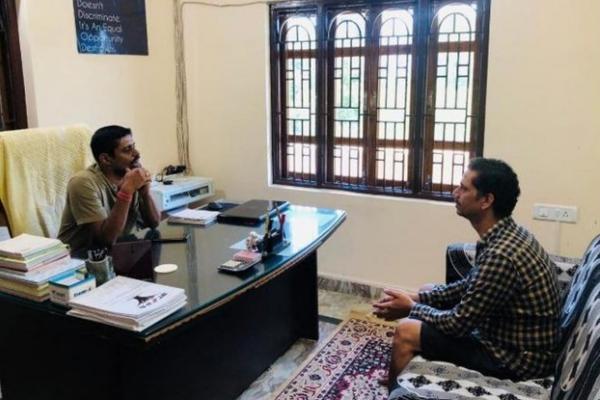 Apart from addiction, the inmate goes through problems like depression, anxiety, obsession, etc. that make the victims' life miserable. This is when the Individual Counselling comes into picture. It helps the inmate dispose of all those obstacles.
In interactive sessions, we try to interact with all the inmates which helps them progress much better in the healing process. We let them express how much they are progressing, share their thoughts with the other inmates, etc.
Inmates are also allowed to do some recreational activities like playing carom, ludo, watching TV shows etc. We believe that someone can truly heal when they remain happy and recreational activities are required to keep someone happy.
Nobody knows a person more than their family does. We, in family counseling, try to discuss with the family about the inmate regarding their history, how they got addicted, their behavior, and so on. Once we study the victim in detail, we provide the best possible solution to heal the inmate for a lifetime.
Our Integrated Addiction Recovery Program
Everyone needs a little help, a little hope and somebody who believes in them.
Our Integrated Addiction Recovery Program is designed under the auspices of the 12 step program approved by the World Health Organisation for Addiction Treatment. By working alongside patients and by taking a holistic approach to individual patient scenarios we help them with their physical, psychological, emotional, social and spiritual ailments towards Total Recovery.
Our 50 bedded facility is housed in an independent villa with all modern amenities to provide a comfortable and recovering environment for patients. 
At STEPS we rehabilitate our clients with compassion, love, self-realisation along with the medical, psychological treatment and education they need to recover from the effects of addiction. The primary function of STEPS is to provide a safe, therapeutic and comfortable environment for client withdrawal  from mood altering substances, including alcohol, heroin and other opiates such as brown sugar and codeine, amphetamines, sedatives (both oral and injections), narcotic analgesics (both oral and injections), volatile substances such as sniffing glue etc and cannabis (bhang, ganja and charas/hashish).
With years of experience, we know how to de-addict a victim better.
We ensure every victim goes through the healing process to get de-addicted.
We deal with the victims with love and compassion.
Our team is ready to serve the victims whenever they need us.
Victims get to live in an atmosphere full of positivity and calmness.
We have a high recovery rate with more than 983 cured victims.
WELLNESS START HERE @ STEPS
(Experienced, working & proven method to leave addiction and live a fulfilling life. )